RSPCA rescuing 240 'small furries' a month
21/10/2019
This Adoptober, the RSPCA reminding people that there's no such thing as a 'starter pet' as hundreds of these misunderstood creatures are coming into our care.
They are urging animal lovers to think carefully about buying a small furry as a 'starter pet' for their children after we continue to rescue 340 of these small animals a month.
Small furries are often very misunderstood pets
Rabbits, guinea pigs, rats, mice, ferrets, chinchillas, and hamsters are often seen as an easy, starter pet' for children. However, small doesn't necessarily mean simple as these animals can typically have complex needs.
Dr Jane Tyson, the RSPCA's rabbit and rodent welfare expert, explains:
"Many people think that we only rescue and rehome cats and dogs but this isn't the case. We see thousands of small furries coming into our care every year and often this is as a result of owners being unable to cope with caring for these animals who they thought would be easy to look after.
Small furries are often very misunderstood pets. One of the biggest issues we see with small pets such as these is people taking them on with little or no research, often buying them on impulse because their children have asked for them. This can lead to families struggling to cope once they realise the large amount of time, money and care these animals actually need.
It used to be a common sight to see a lone rabbit in a small hutch at the bottom of the garden or a hamster in a tiny cage in the corner of a child's bedroom, but hopefully these images are consigned to the past and people realise that these complex animals need so much more than that."
Last year the RSPCA rehomed 2,752 rabbits
This Adoptober, the RSPCA are shining a light on rabbits and small furries in their care looking for homes.
While many of the 44,000 animals they rehome every year are snapped up by new families within just a few weeks, others can spend much longer patiently waiting for their fur-ever home.
Joy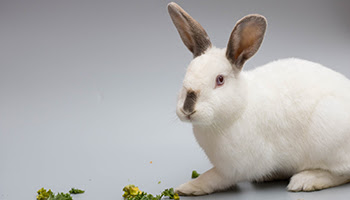 Joy - the Himalayan rabbit, is around one year old and came into the care of the RSPCA's Manchester and Salford branch last September as one of a litter of tiny, baby bunnies. The owner of the rabbits had purchased the mum from a pet shop but the bunny subsequently gave birth which came as quite a surprise.
The one-year-old female rabbit has been in foster care and is now ready to be rehomed to an adopter with a neutered male bunny companion.
Susie Hughes, manager at the Manchester and Salford branch, said:
"Joy's foster family say she's a lovely rabbit who is very curious and loves to explore and rearrange her home!
She isn't comfortable with being handled just yet so new owners will need to be understanding of this. She will happily come up to you for a sniff and to see if she can get any more food. She will sit and wait for her foster carers in the morning, ready for her breakfast. When she is let out to play, she does plenty of binkies and loves nothing more than eating her hay and demolishing any grass left for her with relish!"
Joy can be a little timid and wary of people but has always been very content with a rabbit friend.
Susie added:
"Like all rabbits, Joy is very sociable with other bunnies and doesn't like to be alone. She really needs to find a companion now so if you have a lonely neutered male, they could be the perfect match!"
Joy likes living outdoors in her two-tier hutch with a run attached and the opportunity for extra playtime as well. However, she could also live indoors if a suitable space can be provided. Joy is neutered, microchipped and vaccinated. Joy has been in their care for more than 330 days and is looking to find her forever home this Adoptober.
Isabella and Isadora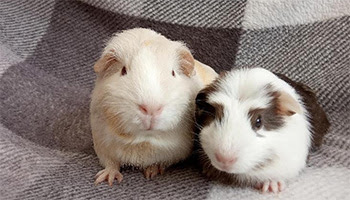 Isabella and Isadora are one of the longest-stay guinea pigs at the Walsall branch after they came into our care in March. Isadora was rescued from neglect and was heavily pregnant but very stressed when she arrived at the branch. Isadora had a difficult birth which saw her lose the use of her back legs but lots of vet visits and physio means she has now regained her movement.
Isadora and her daughter Isabella get along so well it was decided they would like to be rehomed together.
They're looking for an experienced guinea pig owner and they're unable to live with any other piggies as Isadora doesn't get on with other guinea pigs.
They're looking for a large indoor home with plenty to keep them entertained and would prefer an adult-only home. They love being handled and fussed and are both very friendly and always love a chin tickle!
Toffee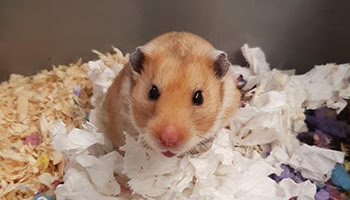 Toffee is a Syrian hamster looking for her forever home, currently at the RSPCA's Blackpool and North Lancs branch. Toffee is about a year old and had very little handling before she came to the branch, so she'll need an owner who can build up their confidence.
Visit Find a Pet to find your paw-fect match.
If you're not in a position to give a pet a home this October, you can still help thousands of animals looking for homes by donating today.